Choose Your Adventure
​We offer tours and instruction for people of all ages and all abilities. Whichever trip you choose, you will have the opportunity to learn and do as much as you want to. We'll show you how to set up the lines and the sled, harness and hook up the dogs, and help with the driving--or you can just sit back and enjoy the ride.

Half-Day Tour

The half-day tour is an introduction to dogsledding that includes instruction, lots of learning, and time on the trail totaling about three hours. A favorite for families!

Full-Day Tour
The full-day allows for even more hands-on learning and time on the trail (about six hours) learning the art, skill and magic that is dogsledding. We bring the snacks and hot drinks!

​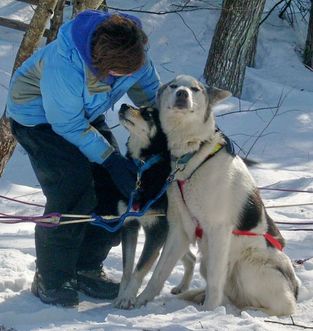 Scheduling a Tour
All of our tours are pre-arranged according to mutual convenience. When you
contact us
with a date (or range of dates) that works for you, we'll do our best to accommodate you.
When you schedule a tour with us, you are our only guest(s) for that day. Dogsledding is not a one-size-fits-all activity. Like many of the outdoor activities you may already enjoy (like walking, cycling, sailing or sea kayaking) running sled dogs spans the entire spectrum from peaceful and contemplative to athletic and invigorating. If you have any particular goals, specific interests, or just a sense of how you'd like the pace of the tour to feel, please don't hesitate to ask about them when you contact us.
​Lastly, dogsledding is a popular winter activity. Weekends fill fastest, and holiday weekdays are the next busiest. If your schedule allows it, weekdays will have the most flexibility. Regardless, don't hesitate to get in touch to find out what's available.
---